FLYING "D" WHIPS"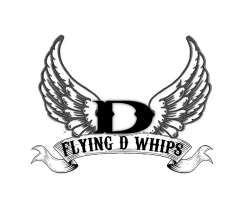 Flying "D" whips offers high quality professional nylon whips.
MADE IN THE U.S.A.
All nylon whips are handcrafted to and custom to order.
All Nylon whips are made with  military grade 550 nylon para cord.
Flying "D" Whips, Custom nylon whips are long lasting and extremely durable in harsh conditions!
Wood handles are turned by hand and I also free branding!

Swivel handle whips and non swivel!
The cow whip has a medium length wooden handle roughly 12-17inches with the thong tying into the top or cup of the handle. The tie strings can also be used as a saddle horn loop to carry the whip while horse back.
The stock whip has a 20-22-inch handle and can be either fully plaited, half plaited, or even bare wood.
The whip is plaited from butt to tip. A steel rod provides the core of the handle.
The wood handle bull whip is a whip that the thong is attached solid to the handle and with no swivel, but can swivel if requested.
The quirt is a forked type of whip that can have two falls at the end.

My goal is to make you the best whips at the best price.  All of the bullwhips made here at Flying "D" Whips are handmade by me; so there is no assembly line, no one somewhere else plaiting your order, or branding your handles.  I also rarely have any whips in stock; I make them upon order as well as payment.